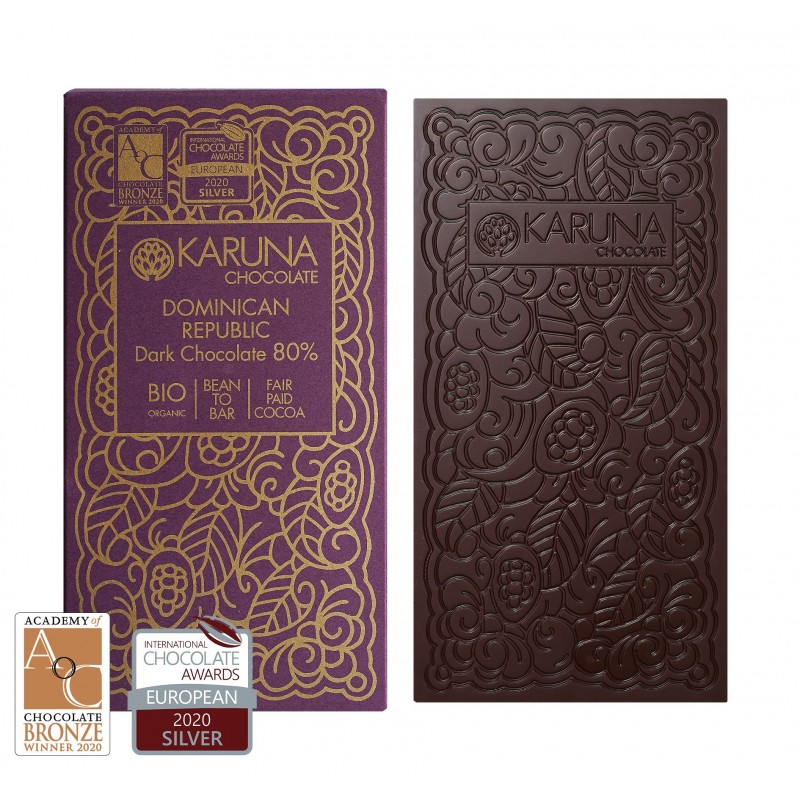  
ORGANIC SINGLE ORIGIN DARK CHOCOLATE 80% - Dom. Republic
Pure dark organic chocolate 80%
Öko caribe beans from the Dominican Republic
Academy of Chocolate Awards 2020 : Bronze Award
International Chocolate Awards 2020 : Silver Award
Ingredients: Cocoa beans*, Raw cane sugar*, cocoa butter*
* certified organic
Cocoa origin: This organic cocoa is grown by 180 farmers in the cocoa growing region of El Cibao, province Duarte. The company Öko caribe ferments and dries the beans in the village Pimentel in San Francísco de Macrois.
Tasting notes: nuts, dry fruits with a light acidity.
Nutrition facts per 100 g: Energy (kj/kcal) 2192/524, Fat 43 g, Sat. fat 23 g, Carbohydrates 42.6 g, Sugars 19.5 g, Proteins 8g, Fiber 6.6 g, Salt 0.02 g
Ecological packaging, free from plastic.