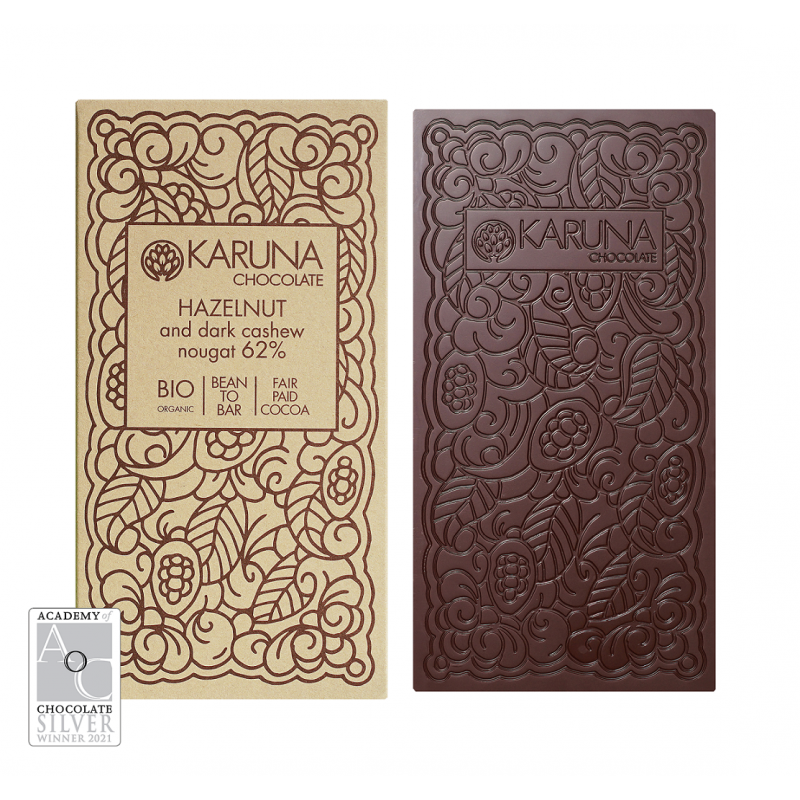  
ORGANIC DARK CASHEW NOUGAT MEXICO 62% WITH HAZELNUT INCLUSIONS
Flavoured dark chocolate
MEXICO 62% dark cashew nougat with hazelnut inclusions
Academy of Chocolate Awards 2021 Silver Award
Ingredients: Cocoa beans*, Raw cane sugar*, Cashew nuts* (13,5%), Hazelnuts* (13%), Cocoa butter*, Salt 
* certified organic
Cocoa min. 62%
Cocoa origin: Mexico, Sierra Madre del Chiapas. The company Original Beans discovered this ancient cocoa in the South of Mexico. In collaboration with the indigenous tribe of the Zoque they have established a plantation and fermentation facilities.
Tasting notes: intensely nutty, roasting flavors, spices.
Nutrition facts per 100 g: Energy (kj/kcal) 2371/572, fat 44 g, sat. fat 19 g, carbohydrates 36 g, sugars 24 g, proteins 12 g, fiber 9 g, salt 0.1 g
Ecological packaging, free from plastic.