Holiday closure from 8th to 23th of August! Orders will be shipped from 24th only.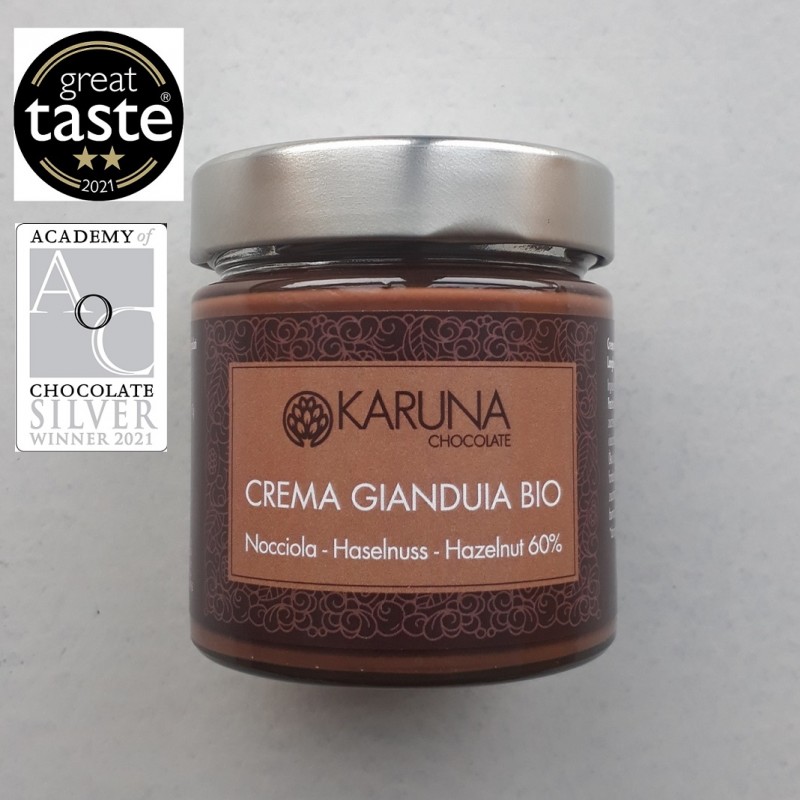  
ORGANIC PIEDMONT HAZELNUT SPREAD 60% "CREMA GIANDUIA BIO"
Premium organic hazelnut spread with 60% hazelnuts from Piedmont, raw cane sugar and our bean to bar choccolate.
Great Taste Award 2021 
Academy of Chocolate Silver Award 2021
Incredible 60% organic hazelnuts of the variety gentile tonda trilobata from Piedmont, organic fair trade raw cane and our award winning bean to bar chocolate Dominican Republic 80%.
That`s it!
No added fat, no filles, no cocoa power nor lecithin. Here clearly less is more. We believe it`s a pity to spread it on a bread!
Ingredients: Hazelnutpaste* 60%, raw cane sugar*, dark chocolate* (cocoa beans*, raw cane sugar*, cocoa butter*), salt (Himalayan Pink)
* of organic agriculture
Contains hazelnuts
Nutritional values per 100g:
Energy: 2531 kj/ 605 kcal, Fat: 47.2g saturated 10.2 g, carbohydrates 35.4g sugar 30g, protein 11g, salt 0,2g