Holiday closure from 8th to 23th of August! Orders will be shipped from 24th only.
Online only
Limited edition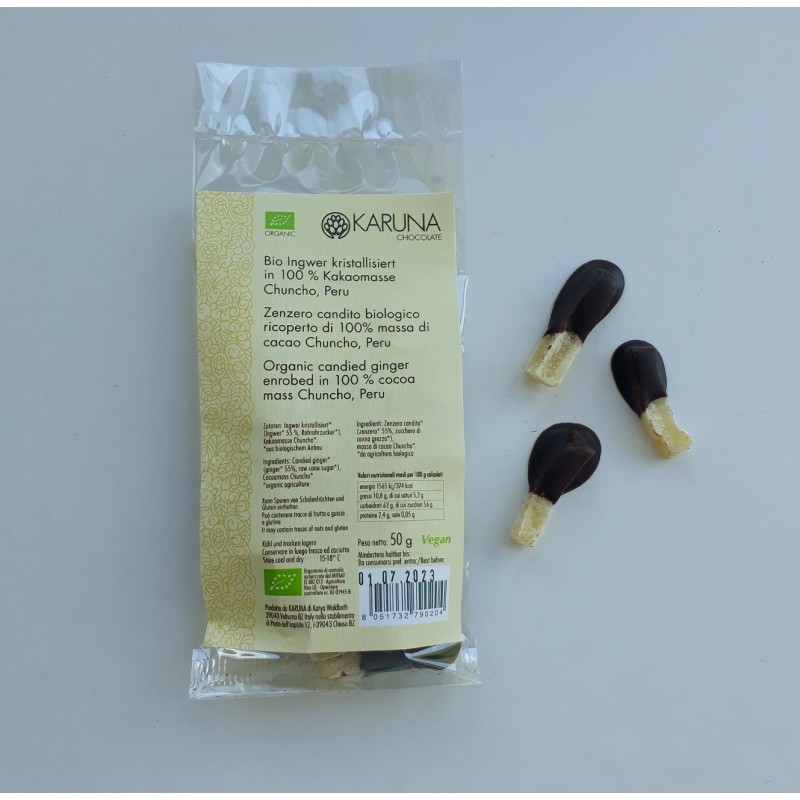  
ORGANIC CANDIED GINGER WITH 100 % CHUNCHO COCOA MASS
Organic candied ginger sticks enrobed in 100% cocoa mass.
Packed in a ecologic foil.
Our organic candied ginger ist soft, sligthly spicy and sweet. We enrobe it with 100% Chuncho cocoa mass. This rare Chuncho cocoa grows in the Urubamba valley in Peru. It`s super fruity with low bitterness. The fruity acidity of the cocoa mass pairs just great with the sweet`n spicy ginger.
Ingredients:
Candied ginger* (ginger*, raw cane sugar*), CHuncho cocoa mass 100%*
* of organic agriculture
Nutritional values per 100g:
Energy 1565 kj / 374 kcal, fat 10.8g saturated 5.2g, carbohydrates 63g - sugar 56g, fiber 3.4g, protein 2.4g, salt 0.05g
Allergenes: It may contain traces of nuts and gluten.
(The fruits are re-packed by a company that handles cereals as well)