Siamo in ferie dal 8 al 23 Agosto! Ordini vengono spediti dal 24 Agosto.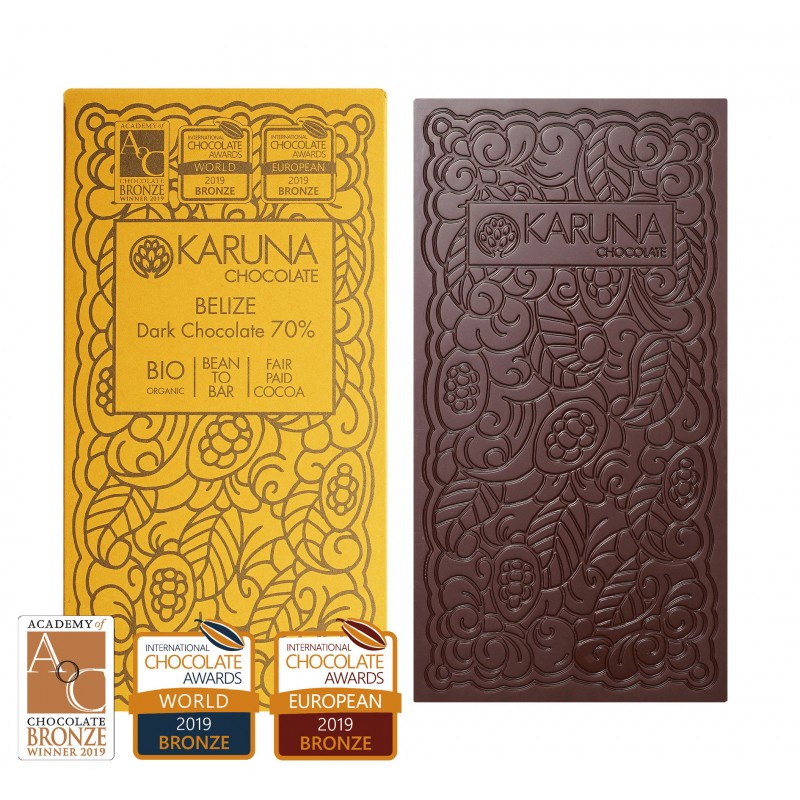  
ORGANIC SINGLE ORIGIN DARK CHOCOLATE 70% – Fast dried from Belize
Cioccolato biologico fondente 70%
Fast dried cocoa from southern Belize – direct trade
International Chocolate Awards 2023: European Silver Award
Academy of Chocolate Awards 2022: Bronze Award 
International  Chocolate Awards 2019: World Bronze Award
International Chocolate Awards 2019: European Bronze Award
Academy of Chocolate Awards 2019 : Bronze Award

Note sensoriali: questo cioccolato presenta delicate note di caramello, melassa e di agrumi.
Ingredienti: fave di cacao*, zucchero grezzo di canna*, burro di cacao*
*da agricoltura biologica
Cacao min. 70%
Origine cacao: Belize, dalla regione di Toledo nel sud del paese. Questo pregiato cacao biologico viene coltivato dalla comunità di Maya Mopan nei pressi del paese di San José, mentre l'azienda Belyzium si occupa della fermentazione e dell'essiccazione a regola d'arte.
Valori nutrizionali per 100 g: energia in (KJ/kcal) 2125/508, grassi 41 g, di cui acidi grassi saturi 23.8 g, carboidrati 44.8 g, di cui zuccheri 29 g, fibre 5.6 g, proteine 7.4 g, sale 0.02 g
Confezione eco-sostenibile, privo di plastica.