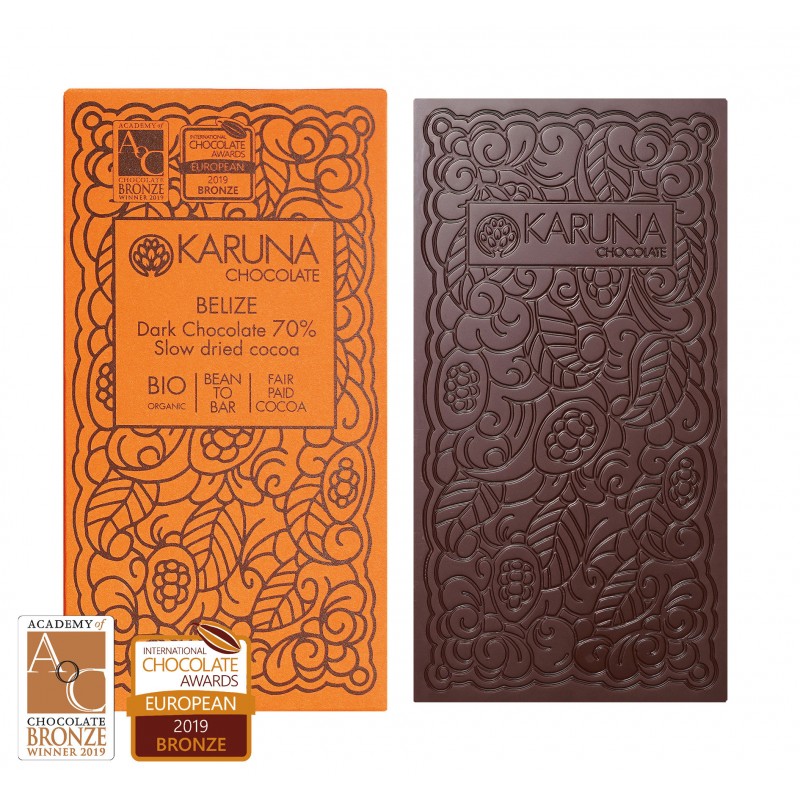  
ORGANIC SINGLE ORIGIN DARK CHOCOLATE 70% – Slow dried from Belize
Pure dark organic chocolate 70%
Slow dried cocoa from southern Belize – direct trade
Academy of Chocolate Awards 2022: Silver Award
International Chocolate Awards 2019: European Bronze Award
Academy of Chocolate Awards 2019 : Bronze Award
Tasting notes: Caramel, molasses, dry fruits, nuts
Ingredients: cocoa beans*, raw cane sugar*, cocoa butter*,
* certified organic
Cocoa origin: Belize, from the Toledo district in the south. This organic fine flavor cocoa is grown by Mopan Maya farmers, close to the village San Jose` and is fermented and dried by the company Belyzium.
Nutrition facts per 100 g: Energy (kj/kcal) 2125/508, Fat 41 g, Sat. fat 23.8 g, Carbohydrates 44.8 g, Sugars 29 g, Proteins 7.4 g, Fiber 5.6 g, Salt 0.02 g
Allergens: It may contain traces of tree nuts.
Ecological packaging, free from plastic.