Holiday closure from 8th to 23th of August! Orders will be shipped from 24th only.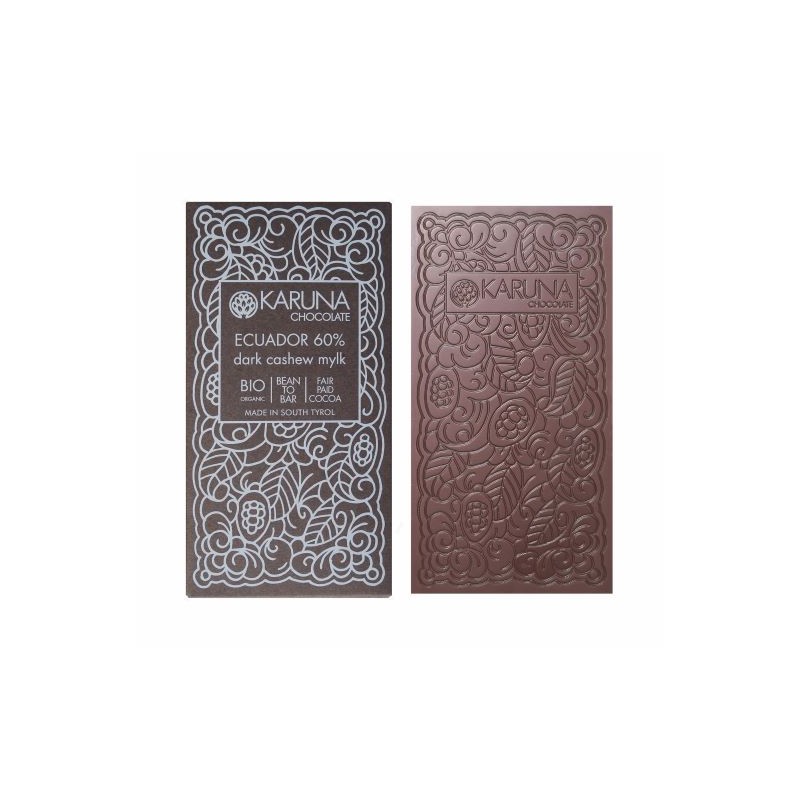  
ORGANIC ECUADOR 60% DARK CASHEW MYLK
Dark mylk chocolate Ecuador 60% with cashews and toasted sugar
It was our goal to imitate the milk flavors. We use cashew nuts from Burkina Faso for the creaminess and toast the sugar over a long period in order to get caramel flavors.
Tasting notes: dark milk chocolate: caramel, chocolatey, creamy.
Cocoa origin: This beans are heirloom Nacional Arriba varietal grown in the Machu Chindal reserve forest in Esmeraldas, Ecuador. 18 Farmers from the village Mono Bravo grow, harvest, ferment and dry this rare bean varietal from Ecuador. Quality and export is overseen by Original beans.
Ingredients: cocoa beans*, raw cane sugar*, cashew nuts (14%)*, cocoa butter*, salt.
*from organic agriculture
Cocoa min.60%.
Nutrition facts per 100g: energy (kj/kcal) 2215/529, fat 45 g, saturated fat 23 g, carbohydrates 38 g, sugar 26 g, fiber 7 g, proteins 9.5 g, salt 0.1 g
Allergens: It contains tree nuts (Cashew nut).
Plastic-free ecologic packaging.